Behind the ExP: Astera Labs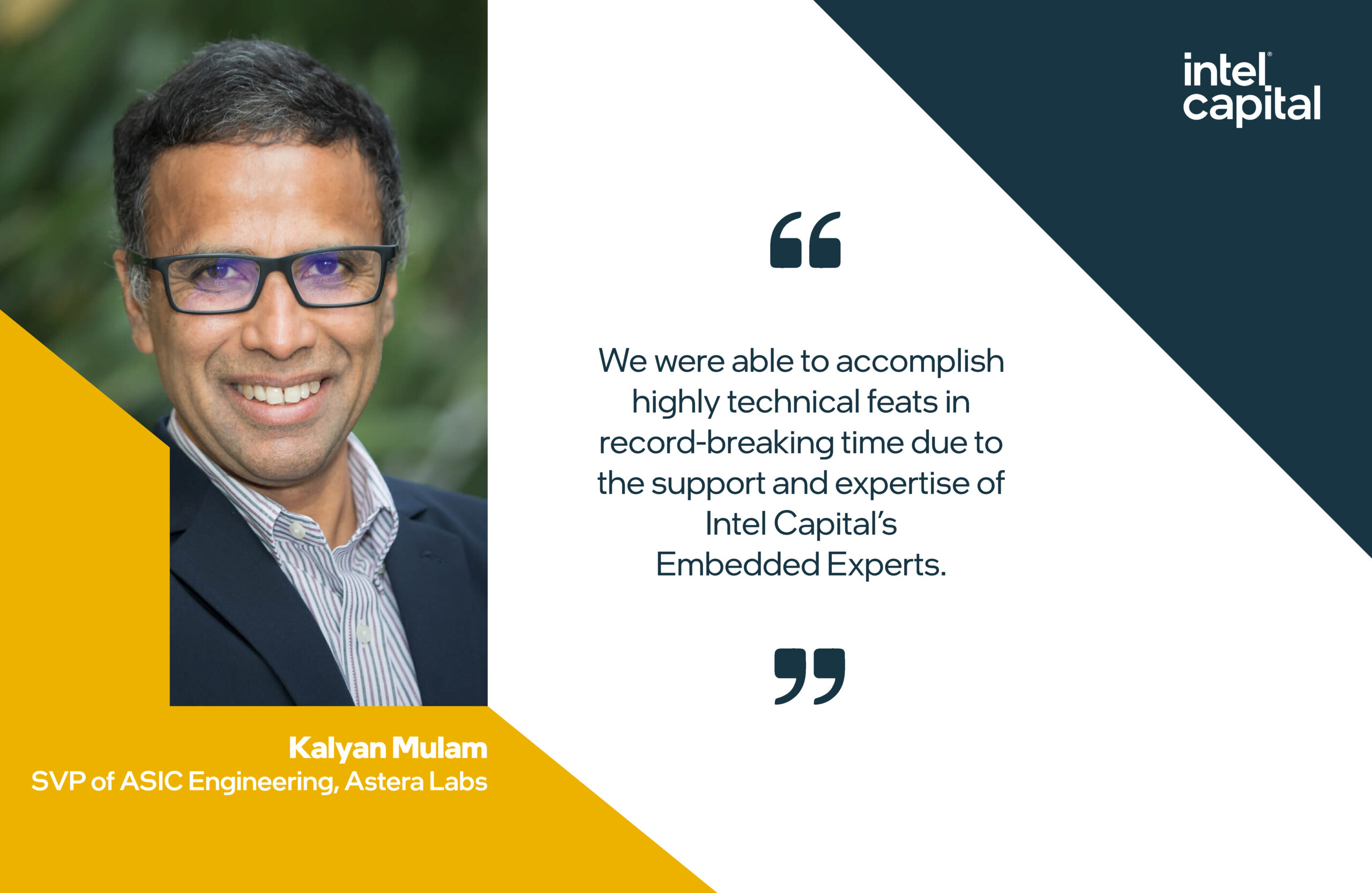 09 | 05 | 2023
With decades of experience accelerating the development and delivery of technology, Intel Capital is uniquely positioned to provide its portfolio companies with the access and expertise of Intel's top technical talent across its 120K+ global workforce with its Embedded Expert Program (ExP). The ExP is purpose-built for Intel Capital-funded companies and strives to help tackle any challenge or need they may face across all domains. With over 100+ custom placements to date, the program has helped portfolio companies improve their AI performance, accelerate their go-to-market rate, boost their world-class high-volume manufacturing and more.

The "Behind the ExP" series showcases the impactful stories of the ExP from the lens of a number of portfolio company leaders and explores each of their unique, firsthand experiences with ExP and the program's impact.
---
Interview with Kalyan Mulam, Astera Labs Senior Vice President of ASIC Engineering:
What led Astera Labs to try the Embedded Expert Program?
KM: At Astera Labs, we manage an array of cutting-edge technologies that have protocols and standards still in development. Solution deployment is always going to be a challenge in this type of dynamic environment. For us to be able to successfully develop products based upon cutting-edge technologies, like CXL (compute express link), it's critical that we hear and learn directly from the Intel experts who developed these emerging paper standards. This informs our ability to translate these paper standards into code, technologies, hardware and software capabilities.
What was your experience like working with Intel Capital?
KM: It has been great working with Intel Capital's Embedded Experts across protocol, software, BIOS and controller verticals. We've been able to discuss the innerworkings of the standards Intel developed first-hand and best practices for implementation. We've also explored the opportunity for the Astera team to create solutions in-house that are much easier to consume by our standard customer-base than the legacy solutions that are currently available.
Astera and Intel have a similar customer set. Their experience and valuable insights into the typical wants, needs and pain points of our customer base and how we can best derive an outcome that would positively impact our clientele has been immensely helpful.
Can you share the results you achieved with Intel Capital's Embedded Experts?
KM: When we generated our first set of products, our Embedded Experts collaborated closely with us to ensure not only the seamless functionality of our offerings right from the outset, but also their innate "plug and play" capability, an element that is critical for our customers. We were able to accomplish highly technical feats in record-breaking time, within a few weeks versus many months, due to the support and expertise of Intel Capital's Embedded Experts. By working closely with them, we were able to mitigate risks and reduce the unknown unknowns in the engineering process – something that otherwise would have taken an immense amount of our team's time. With the insights from Intel Capital, we are now developing and investing with confidence. 
How do you view working with the Embedded Expert Program in the future?
KM: Astera has a process in place that allows us to tap into Intel expert resources and build to specs two-years out, enabling us to stay ahead of the curve. We learned to co-emulate and co-develop with the Intel ecosystem, because the complexity is consistently increasing by leaps and bounds, and we want to continue to take our software and firmware to the next level. Elasticity is fundamentally important for us, providing plug and play solutions for our customers, and this program helps us immensely, benefitting our mutual customers.