Behind the ExP: Caresyntax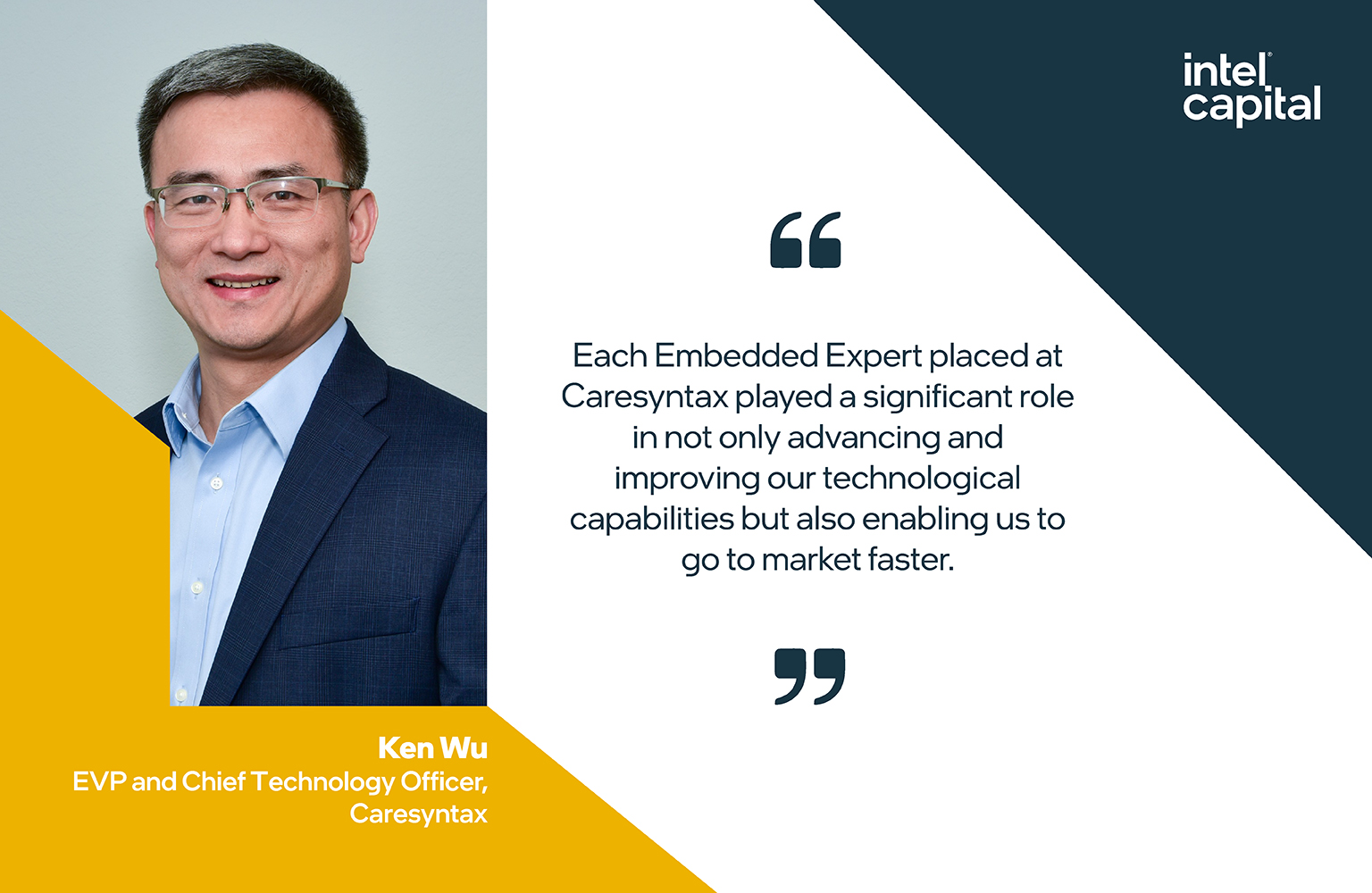 11 | 07 | 2023
With decades of experience accelerating the development and delivery of technology, Intel Capital is uniquely positioned to provide its portfolio companies with the access and expertise of Intel's top technical talent across its 120K+ global workforce with its Embedded Expert Program (ExP). The ExP is purpose-built for Intel Capital-funded companies and strives to help tackle any challenge or need they may face across all domains. With over 100+ custom placements to date, the program has helped portfolio companies improve their AI performance, accelerate their go-to-market rate, boost their world-class high-volume manufacturing and more.
The "Behind the ExP" series showcases the impactful stories of the ExP from the lens of a number of portfolio company leaders and explores each of their unique, firsthand experiences with ExP and the program's impact.
---
Interview with Ken Wu, Caresyntax EVP and Chief Technology Officer:
What led Caresyntax to try the Embedded Expert Program?
Ken Wu: Caresyntax is developing sophisticated, broad platform solutions that solve healthcare industry problems across a spectrum, so it's not a one-point solution. With that said, we needed the resources to advance our software products and were inherently attracted to Intel Capital's suite of offerings, including leveraging Intel's deep experience in hardware optimization, cloud offerings and artificial intelligence, as well as the deep technical skillsets of the experts from Intel Capital's Embedded Expert Program. The opportunity to collaborate with Intel was too valuable for us not to leverage.
What was your experience like working with Embedded Experts and what results were achieved?
Ken Wu: From day one of the relationship, we've been very impressed. One thing that we've especially appreciated is the complementary skillsets that Intel offers, as they precisely cover the areas we as a company would like to strengthen. Through the ExP, Intel Capital was able to find experts in those spaces who guided us through our specific problems, including most recently our hardware optimization project. The Intel experts brought extensive experience and invaluable expertise in both hardware and Intel architecture; they also helped us validate and test some of the technology solutions that we saw in the marketplace.
Another Embedded Expert we were paired with not only supported us with AI and machine learning but introduced us to Intel's OpenVINO™ toolkit. The tool helped us achieve the desired level of performance without increasing the amount of hardware resources needed. The optimization techniques that OpenVINO™ enabled allowed for tremendous growth for our deployment - it's now an integral part of our product that's currently deployed locally in the operating room, as well as the cloud.
A third Embedded Expert supported us with software architecture design around the microservices' cloud-to-edge design paradigm. They coached and led the team on the microservices architecture design and introduced toolsets that helped expedite our time to market. For example, the Portainer tool allowed us to deploy our product solution software seamlessly to the edge, while simultaneously collaborating with our infrastructure in the cloud.
Each Embedded Expert placed at Caresyntax played a significant role in not only advancing and improving our technological capabilities but also enabling us to go to market faster.
What has your experience been working with Intel Capital overall?
Ken Wu: I genuinely enjoy the relationship – from the collaboration to professionalism and the overall quality of Intel Capital's team. In addition to having access to Intel's extensive network, vendors, suppliers and partner network, our Portfolio Development program manager went above and beyond to introduce us to various vendors that Intel works with – many of which we now rely on for parts, devices and equipment.
What is your team doing differently as a result of working with Embedded Experts?
Ken Wu: Thanks to our Embedded Experts, we now leverage new software and toolkits that have improved the quality of our overall solution offering, making it more efficient and scalable. Additionally, integrating some of the mindsets, coaching, technology, design philosophy and approaches to problem-solving that our Embedded Experts brought to our team, has culminated in tangible product results.  Because of Intel Capital's Embedded Expert Program, there will be a long-lasting positive impact on our team's design software.
How do you view working with the Embedded Expert Program in the future?
Ken Wu: Whenever I find myself grappling with tough questions, I reach out to the Embedded Experts and they're always willing to support us. I would not hesitate for a moment to leverage this program in the future as they have proven the value they bring to the table and their ability to help Caresyntax achieve our vision and product development roadmap. The Embedded Expert Program is a terrific program and it's very comforting to know Intel Capital stands behind us and provides assistance with any subject matter, at any time.