Behind the ExP: 3D Glass Solutions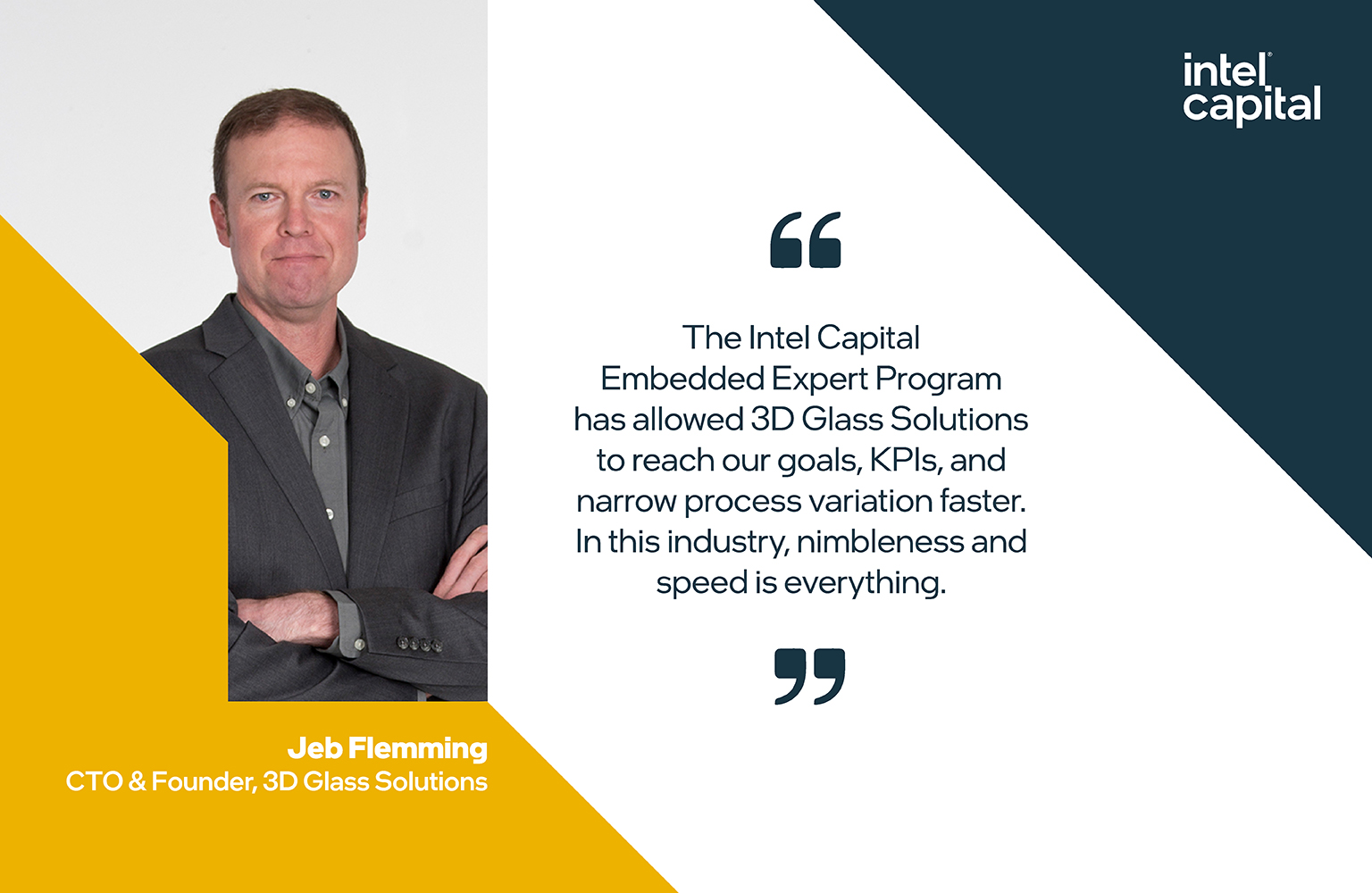 08 | 01 | 2023
With decades of experience accelerating the development and delivery of technology, Intel Capital is uniquely positioned to provide its portfolio companies with the access and expertise of Intel's top technical talent across its 120K+ global workforce with its Embedded Expert Program (ExP). The ExP is purpose-built for Intel Capital-funded companies and strives to help tackle any challenge or need they may face across all domains. With over 100+ custom placements to date, the program has helped portfolio companies improve their AI performance, accelerate their go-to-market rate, boost their world-class high-volume manufacturing and more.

The "Behind the ExP" series showcases the impactful stories of the ExP from the lens of a number of portfolio company leaders and explores each of their unique, firsthand experiences with ExP and the program's impact.
---
Interview with Jeb H. Flemming, 3D Glass Solutions CTO & Founder
What motivated 3D Glass Solutions to explore Intel Capital's Embedded Expert Program?
Manufacturing is very complex, especially in a deep-tech manufacturing environment like 3D Glass Solutions, so the skillsets and potential challenges are very diverse—from materials to interfacial chemistry, and mechanics to thermal. Additionally, it's difficult to assemble a team that has these learnings intrinsic to the organization. When Intel Capital told me that the Embedded Expert Program was an option, I was ready to go.
When I reflect on what we've accomplished with the Intel Capital Embedded Expert Program—leveraging other people's knowledge base that is much deeper than ours—it has allowed the company to reach our goals faster, whether that be solving problems and pain points, hitting KPIs or narrowing our process variations. And in this industry, nimbleness and speed is everything. Today, we're never hesitant to reach out to Intel Capital for their expertise, and to date we've brought on around 20 Embedded Experts (most of which have 20+ years of experience in the industry and bring a skillset and knowledge base that's very different from what we might have). We're incredibly thankful for Intel Capital providing this opportunity.
A lot of times when I want to hire an expert third-party consultant, they may not always fit exactly what I need, but Intel Capital has a knack for identifying exactly what expert the company needs to solve a specific problem—whether it's environmental health services, human resources, or something extremely niche like electronic reliability standards or thin film resistor expertise.
Can you share the results you achieved with Intel Capital's Embedded Experts?
About a year ago, one of our customers asked us to integrate a resistor into our integrated passive device portfolio and we didn't have the in-house expertise, so we enlisted Intel Capital's help to embed three PhD experts from Intel to help develop and scale a resistor process. Today, we've added resistors to our product development kit, which has been successfully rolled out to several customers. We are also building and integrating the resistor with our capacitor and inductor into an integrated passive device that is now shipping out to customers and meeting their specs.
Beyond the technology support, there was an equally important but less obvious part of our business operations that needed support: manufacturing execution system, environmental health and safety, and ergonomics. Surprisingly, there are several non-technical tasks that a manufacturing company must move quickly on, and with the help of the Embedded Experts Program, the company evolved from managing workflows from Google Sheets to cutting-edge manufacturing execution software with all the bells and whistles.
The semiconductor manufacturing industry is super unique on multiple levels, so other important areas where we leveraged an Embedded Expert were engineering human resources, environmental health and safety, and IT. For example with HR, we needed to figure out employee shift models, a topic not only outside of our area of expertise but one that presented various setups, each with their own pros and cons. Alongside the Embedded Expert, we were able to navigate this process and answer difficult questions such as, how do you compensate individuals within various buckets, and do it in a way that feels like they're part of the team, but also rewards them for working a late or overnight shift? For us to build that knowledge base and tackle it ourselves, we would have stumbled, but leaning on the Embedded Expert Program allowed us to learn from Intel's extensive experience they have developed over decades.
What was your experience like working with Intel Capital?
When you have investors, there's a broad swath - some want to help, and some are just passive. Clearly, Intel Capital falls on the extremely active side of the spectrum as they want to be part of the team, the solution, and the growth experience. 3D Glass Solutions is in an industry where you can't build Rome in a day, and if you think that you can do it by yourself then you're very naïve. Leaning on experts who have been there before, who can explain the pitfalls in a way that makes sense, and walk you through the risks of different decision trees is invaluable. Whether it's my Intel Capital investor, Portfolio Development contact, board member, or the Embedded Experts, they are all very insightful and each conversation has been one hundred percent worth every interaction.
How do you view working with the Embedded Expert Program in the future?
Every small business has no shortage of problems. It's about how fast you can solve them and move on to the next set of problems. And as I tell my engineers, that's your job as an engineer: find the problem and fix it, and if that solution space includes a third party and Intel Capital is on the table, we'll leverage the Embedded Expert Program. It's now part of our problem-solving repertoire here. We'll learn a lot more and a lot faster than if we simply read a bunch of research papers.